Weekly Market Recap Jul 09, 2017
Some more volatility hit late this past week but any pullback of note (Thursday) still has bulls rushing in (Friday).   Modest moves Monday and Wednesday sandwiched the holiday on Tuesday.    The "rotation out of tech" continued most of this week:
"The rotation out of tech is dominating stocks and is the overarching theme in the market," Mike Antonelli, equity sales trader at Robert W. Baird & Co. said. "People should not mistake rotation for volatility, and I am not terribly freaked out as investors are not selling everything equally."

"Technology has four times greater impact on the averages than oil because of technology's massive percentage of the capitalization of the S&P," Kent Engelke, chief economic strategist at Capitol Securities Management Inc. said. "The amount of monies required to keep the megasized technology growth issues at current levels is gargantuan."
Wednesday saw the release of Federal Reserve meeting minutes, which indicated a reduction in the central bank's balance sheet could begin soon.
Several members showed they're in favor of starting a reduction of the central bank's $4.5 trillion balance sheet. Holding those assets were part of the policy portfolio that the central bank had taken on while holding interest rates at historic lows.
A very nice upside surprise in economic data Monday as ISM's manufacturing index rose to 57.8 in June, compared with 54.9 in the prior month, marking its highest level since 2014. A reading of 50 indicates expansion.  Thursday's non manufacturing data was also quite nice:  the Institute for Supply Management's nonmanufacturing index rose to 57.4 in June from 56.9 in May.
Friday's employment data reversed some of the poorer data seen in earlier months.
The U.S. created 222,000 new jobs in June as hiring accelerated in the spring.  The increase in new jobs was the largest in four months and second biggest haul of the year.   Economists had forecast a rise of 180,000 and unemployment to hold at 4.3%.  The government also raised its estimate of new jobs created in May to 152,000 from 138,000. April's gain was increased to 207,000 from 174,000.  The unemployment rate, meanwhile, rose to 4.4% from 4.3% as more people entered the labor force in search of work.

Hourly pay rose a 0.2% to $26.25 an hour in June, the government said. Wages have advanced a modest 2.5% in the past 12 months, up slightly from the prior month but still well below the usual gains at this late stage of an expansion.
Here is the 5 day weekly "intraday" chart of the S&P 500 …via Jill Mislinski.
Transports continue to see a rotation move into the sector….

Greg Ip of the Wall Street Journal says it's time to start worrying about a market top.
If you drew up a list of preconditions for recession, it would include the following: a labor market at full strength, frothy asset prices, tightening central banks, and a pervasive sense of calm.  In other words, it would look a lot like the present.
Barry Ritholtz is more sanguine but gives you 10 talking points on how to call a top!
Interesting study but misleading headline: 
People who make the most money spend the biggest chunk of their incomes on luxury goods, but even the poorest households spend a significant amount on luxuries, according to an analysis released recently by Deutsche Bank Research.   The wealthiest families (the top fifth of earners) spend around 65% of their incomes on luxury goods and 35% on necessities, according to the study, which looked at spending habits between 1984 and 2014. Middle-income households weren't far behind: They spend 50% on luxuries and 50% on necessities. Even the lowest-income families (the bottom fifth of earners) spend 40% on luxuries and 60% on necessities.**

** It's worth noting that by the specialized nomenclature of the dismal science, even eating at McDonald's is a luxury — that is, we do it more as our incomes rise — while smoking and lottery-ticket buying are categorized as necessities.
Where do the world's happiest and least happy travelers hail from?  Based on who leaves a lot of unhappy reviews here are the unhappiest!
The week ahead…
Finally out of the pocket of light news, earnings season begins anew; JPMorgan (JPM), Wells Fargo (WFC) and Citigroup (C) will report next Friday.   Economic data will be light with retail sales (+0.1% increase expected) Thursday.
Federal Reserve Chairwoman Janet Yellen will speak before Congress so people will be trying to hear something "hawkish".
Index charts:
Short term: That outside reversal day in the NASDAQ a few weeks back continues to hold sway; in fact a bear might say this yellow range on the NASDAQ chart is a "bear flag" – but I think all the bears have been wiped out!!  The S&P 500 clearly has a bit of a downtrend to it as marked by the purple trend line.
The Russell 2000 popped it's head yet again out of "THE BIG YELLOW RANGE ™" – but Thursday's action was nasty and it ended the week back in "THE BIG YELLOW RANGE ™".
The NYSE McClellan Oscillator remains in red; so we remain in a cautious mode short term – in practical terms that means for "trader types" to stash some money in cash, waiting for things to become more clear.
Long term: Here are 5 year charts on the major indexes; for "non trader types" this is all gravy.
Charts of interest / Big Movers:
Tesla Motors (TSLA) has had a great year thus far despite the doubters – but it was a rough week.  Monday, the company slipped 2.5% after Elon Musk, the company's CEO, said production for its Model 3 electric car should start Friday.  Maybe a bit of buy the rumor, sell the news happening here.   Wednesday the stock was down on some lighter delivery data.  Thursday it was down 5.6%, after the electric-car maker's Model S failed to receive a top safety award from the Insurance Institute for Highway Safety.  So it wasn't the best week…. after a massive move up for the year.
Once begun, the Model 3's production rate should ramp up "exponentially," with 100 sedans to come in August and more than 1,500 in September, he added. "Looks like we can reach 20,000 Model 3 cars per month in Dec," Musk said.  The rollout of the mass-market vehicle is key to Tesla's goal of boosting total production to 500,000 by the end of 2018, from 84,000 in 2016.  Tesla shares been on a tear over the past 12 months, up 67%.
Wednesday, shares of auto-parts retailers dropped after O'Reilly Automotive (ORLY) reported disappointing sales for the second quarter.   Goodness gracious – these were some awful charts BEFORE the selling this week.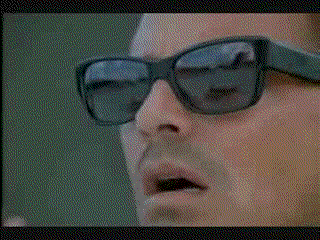 I guess even "brick & mortar" auto stores are in a disaster state.
Friday was not a good day to own silver…
Breaking news!  It was a week!  Therefore a brick & mortar tumbled!  Like all the other weeks!  L Brands (LB) shares tumbled 14% Thursday as Victoria's Secret's parent company posted a 6% drop in June sales.
Have a great week and we'll see you back here Sunday!