Our team spends hundreds of hours testing financial products and services each year. Our reviews are honest and unbiased. If you use the links on this page to open an account, we may be compensated. Thank you for your support! Read more.
Investors should know the best online brokers for stock trading. Some online stock brokers are known for their trading platform while others are known for research capabilities or customer service.
As the lead broker expert for StockBrokers.com since 2009, I've placed thousands of trades. While stock and ETF trading is my jam, I also have experience with options trading, cryptocurrency, and forex.
To research online brokers, I have had funded brokerage accounts with at least a dozen brokers over the past 20 years. For this guide, I compared Ally Invest, Charles Schwab, Chase You Invest Trade, ChoiceTrade, Cobra Trading, E*TRADE, Fidelity, Firstrade, Interactive Brokers, Lightspeed, Merrill Edge, Robinhood, SogoTrade, TD Ameritrade, TradeStation, and Webull.
My goal with this guide is to highlight some of the best brokerages available today with tips and advice for choosing an online broker. Note: Since I work for StockBrokers.com, I reference the site quite a bit. This is with permission.
Best Brokers for Stock Trading 2021
TD Ameritrade – Best overall
TradeStation – Best for day trading
Fidelity – Best for everyday investors
E*TRADE – Best for options trading
Merrill Edge – Best for ESG research
TD Ameritrade
Best Overall
Stock Trades: $0 | Minimum Deposit: $0
Current Offer: Up to $375 cash credit with qualifying deposit
TD Ameritrade was ranked #1 Online Broker 2021 by StockBrokers.com*. TD Ameritrade charges $0 for regular stock and ETF trades and is best known for its trading platform, thinkorswim, alongside its outstanding learning center for beginners. Alongside #1 Overall, TD Ameritrade received top awards for its trading tools, mobile apps, research, customer service, and education. Full review.
TradeStation
Best for day trading
Stock Trades: $0 | Minimum Deposit: $500
Current Offer: $0 commission equities & options + Best trading technology
TradeStation offers the most advanced desktop trading platform in the industry and is excellent for stocks, ETFs, options, and futures trading. Meanwhile, TradeStation's web-based platform and mobile app offer $0 stock trades and are great for casual traders. What I love most about TradeStation is the true focus on traders. Whether you are a new trader just learning the ropes, a casual trader, or an active trader who day trades or swing trades, TradeStation has you covered. Full review.
Fidelity
Best for everyday investors
Stock Trades: $0 | Minimum Deposit: $0
Fidelity focuses its customer experience on value. Beyond $0 trades and an ease of use website, Fidelity also finished #1 for research tools. It's Viewpoint articles are top of class and Fidelity is the only online broker to offer 16 third-party research reports for individual equities. Full review.
E*TRADE
Best for options trading
Stock Trades: $0 | Minimum Deposit: $0
Limited Time Offer: Open and fund an E*TRADE account & get $600 or more w/ code: BONUS21

E*TRADE is best known for its Power E*TRADE platform for options trading, alongside its two mobile apps. The Power E*TRADE platform was rated the #1 platform for Options Trading. E*TRADE was also ranked #1 for Mobile Trading in the StockBrokers.com 2021 Review*. Like its closest competitors, E*TRADE also charges $0 per trade. Full review.

Merrill Edge
Best for ESG research
Stock Trades: $0 | Minimum Deposit: $0
Merrill Edge is the online brokerage arm of Bank of America, which is open to all investors, regardless if they are a current banking customer. Alongside $0 trades, Merrill Edge offers excellent stock research (Merrill Edge was rated #1 for environmental, social, and governance "ESG" research). Also, Merrill Edge offers the best rewards program. Reward perks include credit card bonus cash back, savings interest bonuses, priority customer service, and more. My wife and I have personally been members of the program since it launched in 2014. It's awesome. Full review.
Best Brokers for Beginners
TD Ameritrade
Fidelity
Robinhood
So you are new to investing, and you want to buy a share of Apple (AAPL), Tesla (TSLA), Facebook (FB), or similar. I remember the feeling. As a beginner, it can be pretty intimidating to get started stock trading. Don't worry though, once you place that first stock trade, it is off to the races. 🙂
Before you can open a brokerage account, fund it, and place your first trade, you have to choose a broker. For beginners, I always highly encourage focusing on education, ease of use, and research.
From that lens, hands down, TD Ameritrade is the best broker for beginners. Not only does TD Ameritrade offer the largest selection of education across any broker, but it is all gamified and completely interactive. With hundreds of in-house made videos covering every trading concept under the sun, you can track your progress, earn badges as you go, and even quiz yourself on what you learn along the way. On top of that, TD Ameritrade has its own broadcasting network, the TD Ameritrade Network, so you can watch TD Ameritrade experts live throughout the day as they analyze the market and run educational sessions.

(Image with permission: StockBrokers.com)
Behind TD Ameritrade, I consistently recommend Fidelity. Fidelity offers investors a one-two punch of terrific market research that is comprehensive and easy to use, alongside a large selection of educational courses covering the basics of stock trading and beyond. Out of all the brokers, Fidelity is also my favorite for retirement education, thanks to its Fidelity Viewpoints articles.

(Image with permission: StockBrokers.com)
In third, it's close, but I usually recommend Robinhood. Robinhood's mobile app is so darn easy to use, and I LOVE the Robinhood Snacks daily newsletter, which is my absolute favorite daily market recap. The caveat to Robinhood is that there is little research offered, its educational materials are not nearly as comprehensive, and the app is designed to encourage "over trading" thanks to community-driven data. So, is Robinhood a good broker for beginners? Yes. But, is Robinhood the best broker for beginners? No, and it's not close. I put TD Ameritrade and Fidelity above Robinhood.
Best Trading Tools
TD Ameritrade thinkorswim (desktop)
TradeStation 10 (desktop)
Fidelity Active Trader Pro (desktop)
To trade online successfully, some investors rely purely on their trading tools. Today's trading platforms are not only web based, but also desktop based, and are becoming increasingly mobile based as well. Advanced charting, options tools, screeners, hotkeys, virtual trading, watch lists, ladders, Level II quotes, and back testing are just a sampling of the functionality brokers make available to their customers.
Over the years, I have learned it is not just the trading tools that separate brokers, but the design, depth, speed, and overall execution of delivering the ultimate trading experience.
This is where brokers such as TD Ameritrade's thinkorswim and
TradeStation really excel. After spending hundreds of hours on both desktop platforms, I give thinkorswim the edge, thanks to its modern feel and outstanding trader tools; however, both platforms execute so well that it truly comes down to personal preference. Die-hard fans exist for both, and either one is a great choice for seasoned traders.

(Image with permission: StockBrokers.com)
Behind thinkorswim and TradeStation, Fidelity's Active Trader Pro and
Charles Schwab's StreetSmart Edge are two desktop platforms worth looking at closely. Active Trader Pro and StreetSmart Edge have one distinct advantage over thinkorswim and TradeStation, and that is ease of use. While these platforms do not offer the same depth of trading tools, historical data, chart studies, etc., both are very well designed and user-friendly. In some respects, their balance of power and design make them a better fit for certain traders.

(Image with permission: StockBrokers.com)
Investors who prefer a web-focused experience have a choice of several great browser-based platforms. My top pick again this year, Power E*TRADE, combines the best of both worlds: ease of use with fantastic trading tools. The platform is just "ok" for stock trading, but is terrific for options trading.

(Image with permission: StockBrokers.com)
Best Mobile Apps for Stock Trading
TD Ameritrade
Fidelity
E*TRADE
While I am primarily a desktop trading platform guy, I do use my iPhone XS on the go, and I have a lot of friends that have Android phones. So, which broker offers the best stock trading app?
The answer is, it depends.
For me, I love conducting technical analysis on stock charts, customizing my watch list columns alongside flipping between multiple watch lists, setting price alerts, and occasionally streaming some video. I am an active trader, and I need my trading tools. For this reason, TD Ameritrade Mobile Trader is my top pick for mobile trading. For non-active traders, TD Ameritrade also offers a second app, TD Ameritrade Mobile, which is also excellent (I highly recommend the stock education videos!)

(Image with permission: StockBrokers.com)
Active trading aside, I am also an everyday investor who appreciates conducting stock research and reading quality market editorial. So next to TD Ameritrade, the second broker app I use most frequently is Fidelity Mobile. My absolute favorite feature with Fidelity's mobile app is the customizable dashboard, which is essentially a personalized feed, that you see upon login. Your personalized feed pulls all your portfolio holdings, watch list tickers, and account information into one streamlined view. From there, you launch straight into full-featured stock quotes or market analysis. It's awesome.

(Image with permission: StockBrokers.com)
Last but not least, my third pick is E*TRADE, purely because its two apps are also easy to use and come stocked with features. Personally, when a friend asks me which stock trading app is best, I always recommend TD Ameritrade and Fidelity first because, at the same price of $0 per stock trade, they offer superior research. It is a better overall value.

(Image with permission: StockBrokers.com)
Best Brokers for Stock Analysis
Fidelity
Charles Schwab
TD Ameritrade
It is not surprising that the largest, most publicly known online brokers excel, and all vie for the top spot for research. With larger client bases and higher commission costs, high-quality research is expected.
Comparing apples with apples, all the top brokers use Morningstar as their primary provider for Exchange Traded Funds (ETF) and mutual fund research. They also all offer a slew of data and graphs for researching stocks, and all offer fixed-income research. Slight differences begin to show only when you assess specifics such as total third-party research reports available for equities, for example Apple (AAPL).
All in all, when it comes to researching stocks, ETFs, mutual funds, and fixed income, any top broker is going to provide an excellent experience for investors.
While any of these brokers will more than satisfy most investors' appetites, deciding on a winner based on checklists alone is not enough. Quality and design matter just as much as quantity, not to mention the fact that many brokers will go "above and beyond" to differentiate themselves.
Fidelity, which earned my No. 1 spot again this year, stands out for its 12 equity research reports and fantastic stock comparisons, allowing customers to compare up to five stocks at once with 21 different metrics. Fidelity also distributes high-quality market analysis and personal finance education through its Fidelity Viewpoints weekly distribution. What excites me most about Fidelity is its fully responsive (mobile friendly), carefully laid out research area. Content flow and personalization are at the heart of the experience, which is unlike any other broker in the industry.

(Image with permission: StockBrokers.com)
Charles Schwab, on the other hand, offers customers its own proprietary A – F ratings, called Schwab Equity Ratings, for some 3,000 US stocks. Even more impressive, Schwab boasts a full lineup of 26 in-house experts who provide numerous articles, known as Schwab Insights, on a variety of market topics throughout each week. Some experts, such as Chief Investment Strategist Liz Ann Sonders, can often be seen on TV discussing the market. Schwab also provides the best video experience out of all the brokers, thanks to its market updates and Schwab LIVE events.

(Image with permission: StockBrokers.com)
Not to be outdone, TD Ameritrade offers my personal favorite analytical tool, the earnings analysis tool (image below), offered on its thinkorswim platform. TD Ameritrade also offers what it calls Social Signals analysis for individual equities. Using proprietary algorithms, the Sentiment Score shows what percentage of tweets are positive and displays other relevant metrics. Additionally, in the social realm, TD Ameritrade analyzes data from its millions of retail customers to create what it calls the Investor Movement Index (IMX), which displays and analyzes the sentiment of its retail investors' portfolios.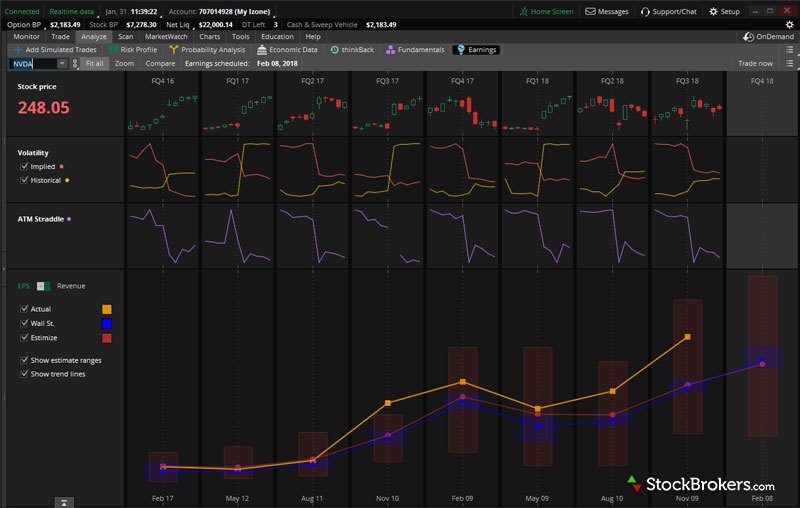 (Image with permission: StockBrokers.com)
Best Brokers for Investment Products
Interactive Brokers
Merrill Edge
Charles Schwab
Investing covers a global spectrum, from investing in international equities to trading forex to purchasing US treasury bonds. To understand the true range of offerings, you have to look at all the broad investment channels down to the specific order types provided by each broker.
Thanks to its focus on professional and institutional trading, Interactive Brokers takes the crown. Do you require advanced order types? Not a problem. Interactive Brokers offers customers an arsenal of 63 different order types. What about trading internationally? Easy. Interactive Brokers offers trading in 26 countries and over 120 market centers. The list goes on and on.
My second pick, Merrill Edge, stands out because its parent company is banking giant Bank of America, which offers checking accounts, savings accounts, debit cards, credit cards, and mortgages. With a Financial Solutions Advisor (FSA) located in over 2,000 branch offices out of a total of 4,000ish locations, Bank of America has, by far, the largest network.
And my third pick, Charles Schwab, is known for its leadership in retirement. Alongside self-directed investing, Charles Schwab provided a full lineup of financial advisor services. Schwab Intelligent Portfolios is Schwab's robo-advisor service that uses a diversified portfolio of ETFs to build, monitors, and rebalance your investment portfolio. You can then upgrade to Premium, which gives you access to a Certified Financial Planner (CFP) for $30 per month after a $300 one-time planning fee. I have tested numerous robo advisory services offered by the online brokers, and Schwab's my favorite one.
Tips for Choosing an Online Brokerage
Having the best online broker to serve individual needs is very important for any investor. Consider these 12 key factors to help compare all stock brokers and ultimately find the best broker to suite your needs.
1. Trade Commissions
What does it cost to buy shares of stock? Does the fee change based on the type of order or size of order? Fortunately, today, trade commissions are essentially a "thing of the past" as the majority of brokers now offer $0 stock and ETF trades.
2. Customer Service
When picking up the phone or emailing a broker, is a well trained customer service representative ready to assist? How any investor is treated as a client is more important to some than others. But, even for those that don't rely on customer support that often, to know that they have award winning service there when they need it is comforting.
3. Trading Tools
Trading successfully is a lot easier when investors have great tools at their disposal. A top stock broker should offer access to a wide variety of trade tools to help make the most of each and every trade. From real-time streaming quotes to last sale tickers, quality stock scanners, mobile trading apps, and level II quotes to name a few. Strong tools are essential for active investors.
4. Account Minimums
Some brokers allow you to open an account with no minimum deposit while others may require several thousand dollars. Also know that some brokers require higher minimums to gain access to premium platforms, functionality, and personalized support.
5. Market Research
A good online broker will provide a variety of market research tools. The rule of thumb here is simple: the more you pay per trade, the better the market research (both fundamental and technical) that is provided.
6. Investment Options
A online stock broker should offer access to not only trading stocks, but also a strong selection of no load mutual funds, commission free ETFs, and complex options. Other unique investment offerings to look for could include direct market routing, conditional orders, futures trading, and forex trading.
7. Other Fees
Fees beyond trade commissions include inactivity fees (common with active trading brokers such as Interactive Brokers, Lightspeed, and Cobra Trading) and IRA fees for having a retirement account. While most brokers do not charge predatory fees, it's still important to do your due diligence. Just like a bank account, stock brokers also make a portion of their revenue off miscellaneous fees.
8. Retirement Accounts
Funding a IRA, Roth IRA, or other retirement account with no annual fees is an extra perk many online brokers offer. There is no reason why you should pay an annual fee to have an retirement account. If managing your own portfolio is not of interest, all full-service brokers offer optional advisory services as well. Once again, the experience at larger established brokers is going to be superior to smaller brokers.
9. Banking
Larger online brokers offer banking and other financial services. This goes beyond money market accounts and CDs. Checking accounts, mortgages, debit cards, and credit cards can also be offered. The leader in this space is, hands down, Bank of America, Merrill Edge.
10. Account Security
Because of the web today, all online brokers invest heavily into account security. SSL websites (look for "https" at the beginning any URL) are used by most brokers and some are now even offering two-factor authentication (using your phone to confirm a code before logging in). Just like shopping online and choosing a trustworthy website to purchase from, the best bet is to choose a well-known, established broker for your portfolio.
11. Speed & Order Execution
For the active trader, execution speed and fill price are very important. I won't get too in depth here but I have tested many of these brokers and there can be noticeable differences in trade execution times and quality. For the majority of investors, saving a penny per share on a 100 shares order isn't the end of the world, but for active traders it is something to look into. To understand Order Execution, read this guide.
12. International Trading
For investors in the United States this is not a problem but for investors living outside the US, when comparing brokers it is important to make sure they offer service in your country. Here's a good list of international brokers to start with.
Best Stock Brokers Summary
Sponsored by:
At Fidelity, free means free.
$0 commission1 online U.S. stocks and ETF trades. With an industry-leading delivery on value, nothing is standing between you and your money.
Open an Account.

Questions & Help Choosing a Broker
If you need help deciding which broker to choose or have a broker specific question please feel free to email me and I will be happy to help.
Also, if you feel this guide was helpful for you please share it on Twitter, Facebook, Linkedin, or email it to a friend. This took many dozens of hours to put together so I appreciate your support!
* – The StockBrokers.com 2021 Online Broker Review included 15 brokers whom were each assessed within eight core categories: Commissions & Fees, Customer Service, Platforms & Tools, Research, Ease-of-Use, Offering of Investments, Education, and Mobile Trading.
TD Ameritrade, Inc. and Reink Media Group are separate, unaffiliated companies and are not responsible for each other's services and products. Terms.
1Sell orders are subject to an activity assessment fee from $0.01 to $0.03 per $1,000 of principal.